Meet Our Authors & Their Books
Seed House Press is an independent press publishing spiritual and literary chapbooks authored by wellness and helping professionals. As our catalog grows, it will feature authors who make the planet a better place one student at a time. They will be (and are) yoga teachers, therapists, certified music therapists, coaches, art therapists, doulas, and more.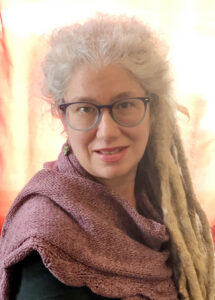 Rachel is a survivor and a community activist. She teaches yoga to survivors of sexual assault and domestic violence. She also leads classes in cancer centers, mental health facilities, prisons, and beyond. She plays Celtic Harp for hospice care.
Her mission is to foster healthy, joyful communities by sharing tools for healing, empowerment, and self-expression.
Rachel is married with two adult children and two grandchildren. She lives and gardens with her husband and their mischievous Japanese Chin dog in Johnstown, Pennsylvania.
Her writing has been featured in Hags on Fire, Northern Appalachia Review, and Long Shot Books. She is a contributing member of the international blog, Christians Practicing Yoga.
Connect with Rachel at YogaSong.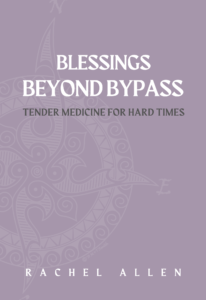 This isn't your typical book of blessings.
Find inspiration and encouragement to process and transform challenging emotions into action with blessings grounded in activism and spirituality.
Author Rachel Allen, a well-respected yoga instructor, and social justice activist, tenderly illuminates the way through (not around) individual and collective suffering to discover hope and possibility.
Blessings Beyond Bypass features small blessings that read like mantras and medicine bundles for moving through liminal times, processing anger and grief, stirring spiritual activism, discovering truth, and expanding capacity for growth, community, and resilience.
It is a must-have resource for yoga teachers, wellness leaders, mindfulness coaches, spiritual guides, and social justice activists for use in classrooms and at events and retreats.
Special Note About Your Order
Buy Blessings Beyond Bypass with a secure payment through Paypal. This button automatically adds tax and shipping to your order. Your order will be processed through our parent company, Open Roads. Because we distribute our own books, please allow 7-10 days for your order to arrive. If you have trouble with your order, please Contact Us.